Статья
Glossy pictures
04/21/2016
This issue of Harper's Bazaar magazine was very special for even those of us who is not interested in glossy magazines. We had been working on it for two months before it came out in April. It is a jubilee issue, which is full of pictures from all over the world, and we are very glad that we've worked on it together with five illustrators from the agency. That's why we have decided not only to share the pictures with you, but also to share the impressions and emotions of those who took part in the process.
Denis Kovalev, Art Director
Please tell us about the project, when exactly did you decide that the issue should be fully illustrated, without any photos?
We have always wanted to do something special for our anniversary, and Dasha Veledeeva, the editor in chief, has always had an idea of making an illustrated issue, so we decided to use this idea for our 20th anniversary magazine. It's a very unusual idea, but it has been a success!
Which part of the work was the most difficult for you?
It was hard work in general, as we had had no previous experience of that kind. The most difficult part, however, was to work with a pool of illustrators from all over the world, mind their capacity and to manage the process. We never have enough time to try something as soon as we are always under deadline pressure, so we have to be sure in every illustrator and his or her work. Another moment is that there is that "Tastes differ" thing about every picture made by an illustrator, so we had to agree on the artist's style, that is to say, everyone should like it.
Have you learnt anything new from the process?
I have almost become an edition of Illustration Now! The work on the project has turned out to be a thorough research on the global illustration market.
What do you think of Russian fashion illustrators?
I didn't like that it was quite difficult to find an illustrator for our project as there aren't many artists who work in an interesting manner, a remarkable style. Most of the portfolios I've seen are non-informative and rather boring or even not professional.
Did you learn about new illustrators, did you like any of them?
I've met dozens of new illustrators and, as I say now, I had fallen out with half of them even before the magazine was published. The thing is we had to be quite strict, really demanding, the work we needed was more technical than creative. So we had to work on some pictures with one illustrator and then another one just to get the result we needed.
What would you recommend to Russian fashion illustrators?
My word of advice is to draw at your pleasure. Follow the example of foreign illustrators who aren't afraid of making something wrong or unusual. And to work on your own style that one will be able to tell your works from the works of other people by. And I wish you as few naughty clients like us as possible.
Nina Lobykina, Photo Director
You had to approve of every picture and sometimes take decisions quite quckly, was it more difficult than the usual work on the issue?
It was hard not only for me but for the whole editorial staff. We had to change the working rhythm, as everything had to be done much faster.
Was the experience useful for you?
It was a sort of team building experience, and we proved that we are a great team!
Would you like to keep on working with illustrations?
It was very interesting and useful for me, and I often have a difficulty in getting an image I need for an article, and no photo works, that is the case when only illustrators can help us get the picture.
Do you have any favorite pictures or campaigns from the issue?
A fashion story about couture collections made by David Downton is one of my favorites. And there is also a "Beyond time" part illustrated by Natasha Tabatchikova, I really love it!
Lesha Kurbatov, illustrator
You have made the portraits of all the editors, who are mostly women — weren't you afraid that your work would turn into endless comments on your works?
In fact, it was rather risky to draw forty-four people in a short period of time. But it turned out to be a pleasant experience. As soon as I made group portraits, the most important thing was to share the general impression. Although I had to make some changes, I hope everyone was satisfied with the result.
What is the most important for you when you work on such projects?
I wanted to show something familial about them, something clannish. To show that the reason why all these different well-dressed beautiful women gathered together was to say "Harper's Bazaar is me", which I consider to be the most important thing.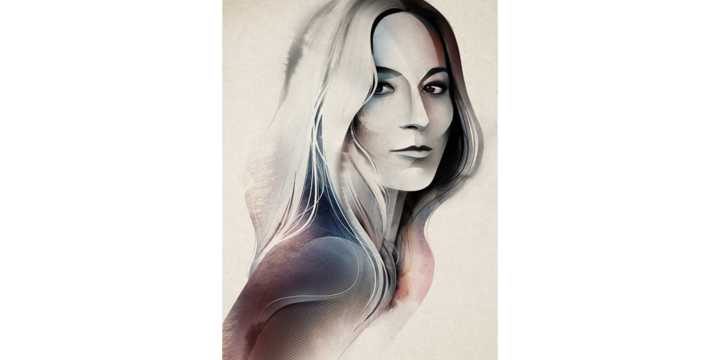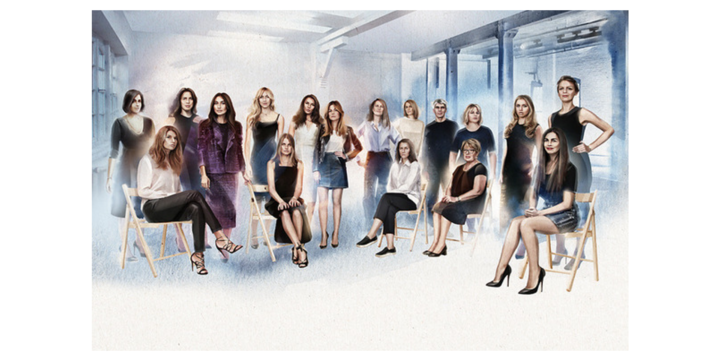 Lena Kler, illustrator
Lena, you have made many pictures of girls and bags for this magazine, please tell us about your impressions?
It has been hard work, and everything had to be made very quickly. But I really liked it. I feel very happy about contributing to such a great project.
Are you satisfied with your work?
Working on illustrations for the jubilee edition of Harper's Bazaar is very important and valuable experience for me. Of course, I always find faults in what I do, but in general I'm satisfied.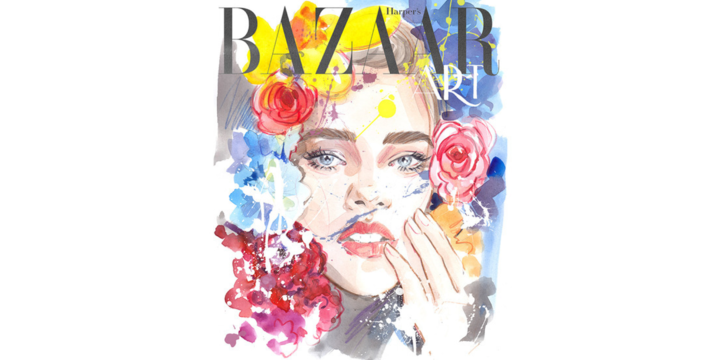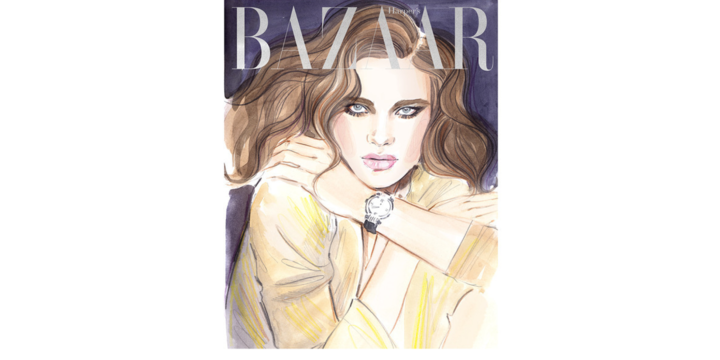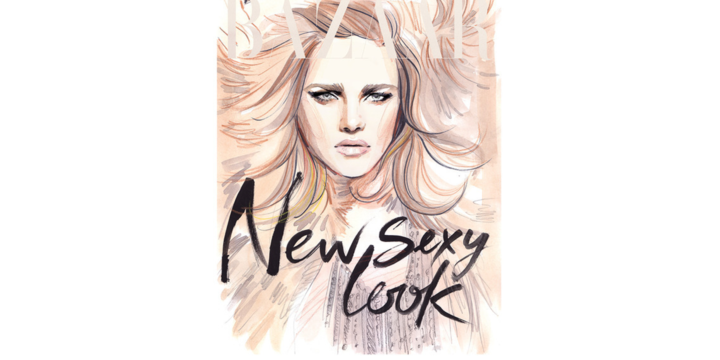 Katya Tkacheva, illustrator
The pieces of jewelry you've drawn are so photorealistic, sometimes even too much. How did you do that?
What inspired you when you worked on the project?
The very task was so inspiring that I didn't need any other source of inspiration! I can say that I drew for my pleasure.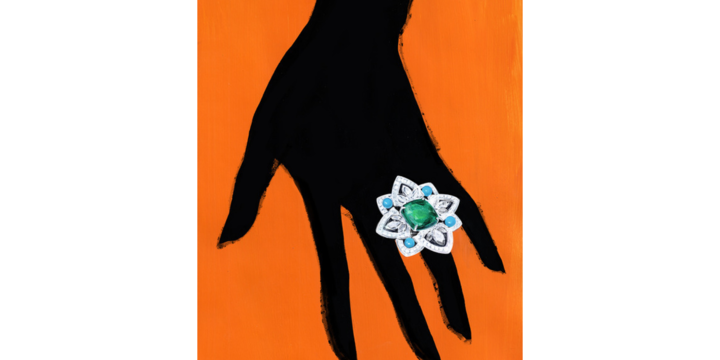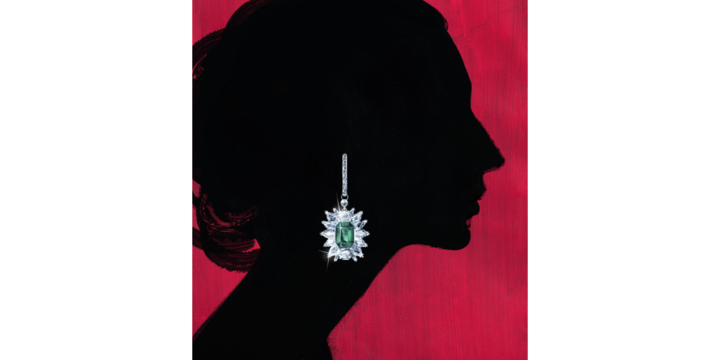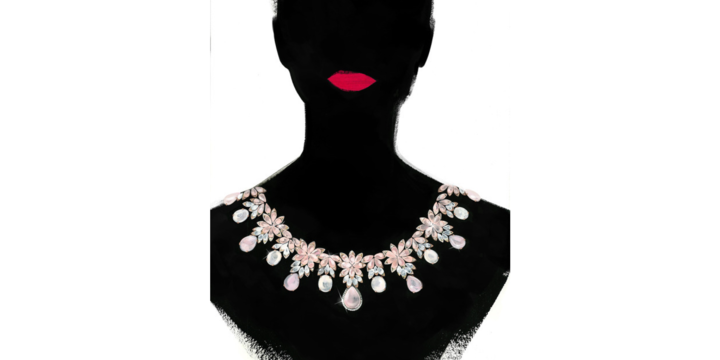 It's really important that such difficult and intensive work satisfy everyone. This way the magazines will order more great pictures from great illustrators that will inspire more fashion illustration beginners of any age.